MODULAR HOMES are in fashion, and this is due, on one hand, to the cheaper prices of prefabricated wooden houses, speed of construction, among other PRO AND CONS OF MANUFACTURED wooden homes.
Industrially prefabricated wood has come to stand out in recent years as one of the most used materials for housing construction.
Among the advantages of prefabricated wooden houses, the following can be mentioned:
Wood is an ecological material.
Energy efficient.
Durable.
Easy to work.
Nice look and touch.
Ideal for designing home interiors.
Functionally it is very versatile.
Several countries have registered an increase of construction of prefabricated wooden houses. For example, in Germany, according to the German Prefabricated Association (BDF) there has been an increase of more than 17% in the construction of prefabricated wooden houses.
In Spain, some information suggests that there has been a 40% growth in prefabricated houses in the last two years.
Warren Buffett, one of the most successful investors in the world, has also fully entered the prefab business, through one of his companies, called MiTek, with the idea of ​​automating large-scale prefab production and construction processes. .
As you can see, the production of prefabricated wooden houses is booming.
Prefabricated Wooden Houses (Cabins)
There are several suppliers and builders of prefabricated wooden houses with cabin style, which we show you below.
You can analyze the price offers they have for each model of prefabricated wooden house, and if necessary, contact them to request more information.
Santa Fe Cabins
Santa Fe Cabins is a company located near the Azteca Stadium, in Comuneros Santa Ursula, Mexico City. Among their offers of wooden houses, there are wooden log houses, "giving the appearance of a cabin but actually being a strong, resistant and beautiful-looking house", as they put it.
They have more than 50 models of wooden houses to choose from. Due to the speed they propose that they can install a wooden house, (very few days), it is comparable with prefabricated wooden houses.
Prefabricated Wooden Houses Prices and Photos
The prices proposed by Santa Fe Cabins for one-story wooden houses range from 1'250.00 to $6'250.00 USD.
The prices of wooden houses for 2-story homes are between 37'500.00 and $125'000.00 USD.
Below are photos of his built wooden works.
You can contact the COMPANY if you need a service.
Sale of Prefabricated Wooden Houses in Mexico
Los Andes Wooden Houses is a company located in Guadalajara, Jalisco, Mexico.
Among its offers are the construction of cabins and prefabricated wooden houses.
The company has its own manufacturing plant in Guadalajara, Mexico, which allows it to "deliver projects in real time," according to themselves.
As an interesting fact, they state that "all the wood used in the construction of our prefabricated houses and prefabricated cabins go through a series of quality standards and PRESSURE IMPREGNATION TREATMENTS, which allows us to deliver high quality wooden houses and great durability.
They have within their catalog of prefabricated wooden houses, housing projects from 40 square meters to more than 200 sqm.
These are nice photos of their wooden (prefab) homes built in Mexico.
Sale of Cabins Wooden Houses in Mexico
Casas Antuco is a young construction company, which specializes in the manufacture of prefabricated wooden houses and prefabricated wooden cabins in Mexico. In addition, they carry out emergency housing, social interest, medium interest, residential, tourist and country residential.
The company is located next to Plaza Américas, in Circuito de la Industria Norte No. 24, Parque Industrial Lerma, Lerma, State of Mexico.
Among its proposals for prefabricated wooden house projects, there are residential houses from 64 square meters to 200 sqm.
Among the pieces of prefabricated wood that they offer for housing are partitioning elements with exclusive prefabricated panels "Casas Lerma" and roofs made up of prefabricated wood panels from the industry.
Modular Wooden Houses Prices
The prices shown below for wooden houses are estimates, depending on the region where you want to build.
There may be price variations due to the prices of materials, labor and transportation of materials, as well as the place where you want to build, the final dimensions of the house, the duration of the work and the quality of the interior equipment and the materials finally used, among others…
The minimum price for a one-story, one-bedroom manufactured log home is 12'500.00 USD. The maximum price for a wooden house with prefabricated elements of one story and 3 rooms is 62'500.00 USD, for a house of 100 sqm.
In general, it results in an average price of 625 USD for each square meter of the home.
If you want to add a terrace, the price would be 120 USD / m² of terrace. These prices do not include a kitchen, crane, freight or the foundation of the house.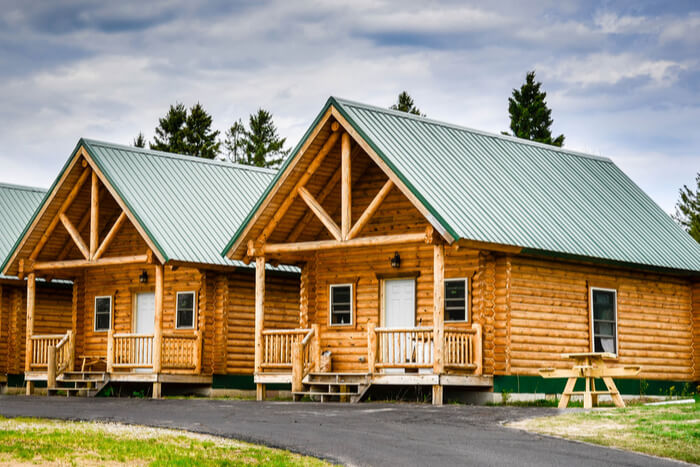 How Much does a Prefabricated Wooden House Cost?
To get a better idea, a prefabricated wooden house of 60 square meters has an approximate cost between 250 and 750 USD per square meter, depending on the model, type of wood and construction method, and the quality of the finishes.
An 80 m² two-story house with 3 bedrooms, can be in the order of 50,000 USD, with local wood.
What does a Manufactured Wooden House include?
The price of the house can include the following:
Electrical installation at the foot of the house (it will not be done until the connection).
Hydro-sanitary installation at the foot of the house (includes exits without branches).
Furnished bathroom(s) with WC.
Washbasin (oval).
Semicircular shower.
Interior doors with sheets and fittings.
White laminated main door with veneer and fittings.
Aluminum windows white electrostatic paint, single glass.
Laminate end floor.
You may also be interested in knowing, HOW LONG DOES A MANUFACTURED HOME LAST.