Ideas of houses with a patio , with interesting exterior and garden designs.
Having an interior patio in your house can allow sunlight to enter areas of the house that would not otherwise be possible, especially in houses between party walls. With well-planned HOUSE PLAN, backyard homes can feel like private oasis, away from neighbors, and on a relatively small lot.
Gardening your home's inner courtyard, adding a water feature or building a small pool can make a big difference in the overall comfort of your home.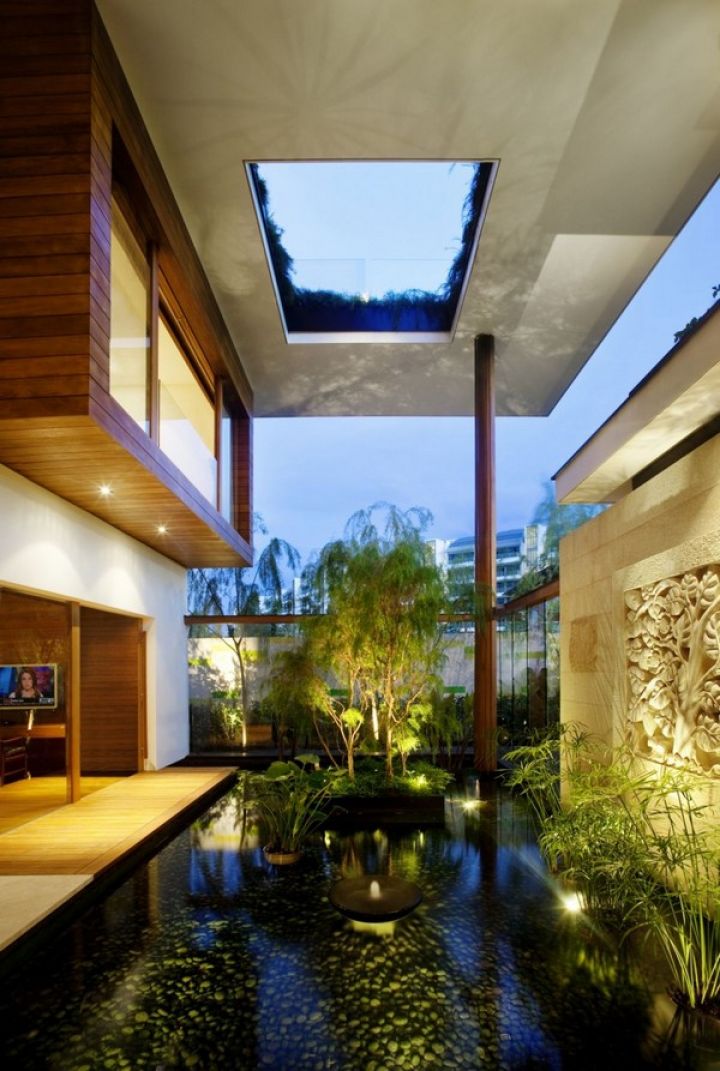 Next, let's look at a collection of inspiring examples of interior patio house designs, which can help you achieve interesting designs.
Houses with Inner Courtyard
House with Several Interior Patios – Cashew House
The house has been designed maintaining a main objective: that each floor has visual or real access to the vegetation (interior patios).
This house with an interior patio is located in Singapore and has a usable area of ​​913 square meters, built on a 461 m2 plot of land.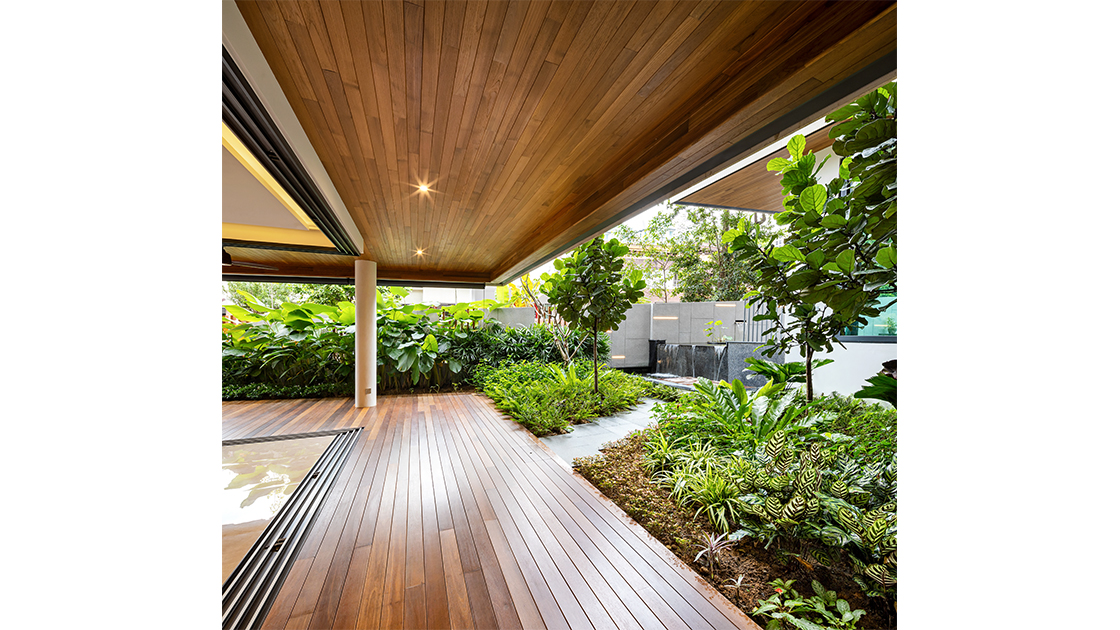 The intention of the design firm FOMA Architects LLP was to try to allow the central garden to be seen from most of the spaces in the house, including the main living room.
Modern House With Interior Patio and Pool
The main idea of ​​this modern house design WITH INNERYARD and pool, was to create an open plan design, which would allow harmony between the interior and exterior spaces of the house.
The architects designed a 3,000 square foot usable contemporary interior renovation , located in a neighborhood in Singapore.
Natural light and ventilation are introduced into the interiors through this large internal patio with a swimming pool.
The pool was added to the original floor plan design, giving the patio a more peaceful atmosphere.
To one side of the interior patio of the house, we have the entrance to the house, the living room and the staircase. On the other hand, there is the kitchen with a bar and the dining room. Aluminum and glass folding doors open fully to connect the interior space with the patio outside.
Indoor Patio Ideas
Interior Patio with Wooden Floor
Interior Patio with Wooden Floor and Lawn
Interior Patio with Wooden Floor and Gravel
Inner Patio Gravel Floor
Inner Courtyard with Lawn
Interior Courtyard with Lawn and Cobblestones
House with Interior Patio with Water Pond
Internal Patio with Concrete Floor
Interior Patios with Pool
Inner Patio with Vegetation
House with Interior Courtyard or House within the Courtyard
A house designed, to open completely to the patio areas. In this way, promote a more natural life with fresh air and sun, in the tropics.
Notable in this HOUSE DESIGN are the large door panels that fold down to allow a free flowing cross ventilation.
The integration between the interior and exterior spaces is maximum, losing at times the limit between them. Water mirrors mix with the natural vegetation of the place.
Mirrors of water that integrate the architecture and the surrounding vegetation.
The entry of light is filtered by steel and acrylic pergolas.
The project is inspired by the idea of ​​living in a natural environment.
Double height in the main hall, which allows the natural environment to enter from both sides.
House Surrounded by Patio
The design of this house is conceived to take advantage of life outdoors.
With interior design by the team of Fernanda Dovigi, founder of Toronto-based design firm FMD Design , the house with a front patio and backyard has an area of ​​1,000 square meters.
Located in a private neighborhood surrounded by traditional and Mediterranean-style buildings, the residence features contemporary architecture, created by architect Chad Oppenheim.
With an H-SHAPED house design , patios and gardens are integrated into the daily life of the residence.
Views of an interior patio from the main dining room.
Kitchen – modern dining room, overlooking the interior patio of this house with patio.
Top view of a section of the residence.
Houses with Glazed Interior Patio
It is a small interior patio with divisions made of aluminum and glass profiles. This allows the interior patio to penetrate into the interior space…
Thus, a glazed interior patio is generated , providing abundant natural lighting and cross ventilation.
House with Internal Patio and Atrium
It is a house located in the middle of the tropical region, and has a useful area of ​​2000 square meters. A bungalow style house, located in Bukit Gasing, Petaling Jaya, hosting a family of 4 generations.
The house is located in an area with abundant vegetation around it. In addition, they have maintained all their environments with that direct link with more plants and vegetation, not only in the interior patio.
This house with an internal patio also has a backyard with this pool.
House with Interior Patio Vegetation and Pool
Typical Mediterranean house, with a gabled roof with clay tiles, and an interior patio with a gallery and vegetation.
House with Interior Patio and Tropical Architecture
Water as an element that evokes serenity. A house with an interior patio with a fountain has the advantage of keeping the air fresh (especially in dry climates), while producing a feeling of peace and tranquility.
Houses with Backyard
Concrete House With Backyard
House With Backyard, Pool and Gazebo
House with Backyard and Double Height Space
House in a Moscow Forest
A modern house with large overhangs and large glass areas, to allow light to enter.
Designed by a South African studio, called SAOTA, and in collaboration with ARRCC , a South African interior design firm, the courtyard house allows for spectacular views of nature, through extensive areas of glass joinery.
"We always try to maximize natural light in our projects, especially in Moscow," say the architects from the SAOTA studio.
The residence, being located in a region like Moscow, Russia, spends half the year at a temperature close to 0 degrees Celsius and with a low level of natural daylight. Therefore, the use of facades with large glass areas is a functional necessity of these homes.
So far the tour of the houses WITH COURTYARD…